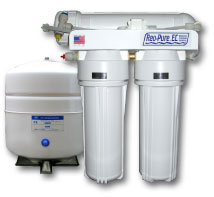 The REO PURE Model reverse osmosis water purification system is the best economy unit in its class. It uses no chemicals or electricity and provides very good water quality.
Reverse osmosis purification improves both the taste and quality of your water. It reduces up to 99% of the chlorine, as well as objectionable odors and sediment. Reverse osmosis water filtration also reduces the following water contaminants that may be present in your water:
****lead, copper, barium, chromium, mercury, sodium, cadmium, fluoride, nitrite, nitrate, aluminum, arsenic, sulfate, phosphate, iron, magnesium, zinc, chloride, silicate, cyanide, sulphide, bacteria, potassium, fluoride, nickel, silver, manganese, ammonium, barium, chromium, and selenium.****
This system hides away under your sink and puts healthy great-tasting water at your fingertips. It meets all your water quality needs at a fraction of the cost of bottled water; it costs about 7 cents a gallon to operate. Compare that to the price of bottled water, without having to carry home those heavy bottles of water.
The undercounter water purifying unit is easy to install (usually takes about a couple hours). The system comes complete with a space-saving, 4.4 gallon storage tank and all the necessary fittings, including a long-reach chrome spout.
For cold water use only. Maximum water temperature is 100°F. Maximum water pressure is 125 psi; minimum water pressure is 20 psi.
The prefilter should be replaced every 6 Months-1 year.

As little as a penny per gallon. it can save you money over bottled water.

Better taste for cooking, coffee, tea and concentrated juices.

Can be connected to your refrigerator's water and ice making dispensers.
(50 or 100 gallon-per-day system is recommended.)

Easy to install and maintain.
Compact enough to fit under your kitchen sink
Excellent for city or municipal water.
Makes a great gift!
Approved by the State of Wisconsin with the optional Wisconsin upgrade kit

R.O. Size : 13-3/4" w x 15-1/4" h x 5-7/8"d
Tank Size: 16" h x 12" diameter
Approximate Shipping Wt: 23 lbs
---
Certain areas of the country have very high levels of dissolved
solids in the water supply. When the concentration of
these dissolved solids get above 250 mg/l (ppm), the
water can take on a bitter to foul taste. Since ordinary
filters do not remove minerals from the water, a
Reverse Osmosis system is recommended. Reverse
Osmosis is a process of forcing tap water through a
semi-permeable membrane, leaving dissolved solids,
chemicals, low levels of bacteria and many other impurities behind.
These impurities are rinsed away, resulting in clean, clear,
great tasting water. This same process is used by many of the
bottled water companies. Anything made with R/O water tastes better: coffee,
juices, soups, pasta. Ice cubes are clearer and harder and free of "funny taste"


---


*REO PURE Model EC3/25 GPD $399.00
Plus shipping $55.00 in the Continental USA

Units include full size 10" sediment and carbon filters.
A 4.4 gallon steel storage tank
3/8" tubing to faucet
Auto shut off valve.
Long reach chrome faucet.
Reverse Osmosis Unit with installation kit and tubing. 1 year warranty.

TO ORDER
CALL 973-293-7856 or FAX Order form 973-293-8056

We provide 7 Day Tech Support 914-489-3068





REO PURE EC-25 REPLACEMENT FILTER/ UNIT ORDERFORM
REO PURE EC-50 REPLACEMENT FILTER/UNIT ORDERFORM
REO PURE EC-100 REPLACEMENT FILTER/UNIT ORDERFORM
(1 year warranty)


---
---
---
---

Alpha Water Systems Inc ®
1995-2023
USA 1-973-293-7856
Worldwide Fax 1-973-293-8056
Telephone Hours 8:00AM-4:30PM
Eastern Monday-Friday
Send us a message at alphasys@warwick.net
Ordering Info | Product List | Company Policy | Water Education
Dealer Form | Warranty | Home Page
Portable Reverse Osmosis