DRINKING WATER STANDARDS PAGE SHOWS MAXIMUM CONTAMINANT LEVELS

Ever wonder what was really in your water? So many reports, smells, and that awful scaling.
At Alpha Water Systems Inc., we'll test your water for free and with no obligation.
We have a 3 part water test that we can do at no cost (FREE). We'll test your Hardness, Iron, and pH.
INSTRUCTIONS FOR HOME SAMPLING:
1. Wipe in and around faucet opening with isopropyl alcohol. Be
very careful not to chip off any of the white encrustation of hardness
minerals into your sample container.
2. Allow water to run for 10-12 Minutes
3. Collect sample. Fill container completely and cap
immediately. The idea is to expose the sample to as little air as
possible. Avoid contact with your fingers.
4. Collection bottle should be glass or poly carbonate with plastic
screw on cap. Sample volume should be at least 8 oz. or more.

5. Mail sample US PRIORITY MAIL.

We can do a 10 part test for $85.00. Send at least 8 ounces of water in a clean bottled water container to:
ALPHA WATER SYSTEMS INC.
P.O. BOX 1210
MONTAGUE, N.J. 07827
973-293-7856 Fax 973-293-8056
Remember to include your email and mailing address.

---
TDS METER
This Quality TDS Meter has a hold button feature
A great way to test bottled water and your own reverse osmosis production water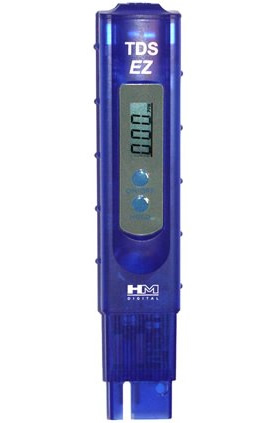 Model TDS-EZ
Right Click and view image above to
see larger picture.
Microprocessor based Conductivity and (TDS) Total Dissolved Solids Testers:
High accuracy & exceptional linearity over the entire range
Automatic Calibration with the Press of a Button
Selected applications for the TDS-EZ:
Hydroponics, Drinking Water, Heating and Cooling Systems, Reverse Osmosis,
Laboratory, Education, Aqua culture and Printing.
To order call: 973-293-7856

---
---