ALPHA WATER SYSTEMS INC.
FILTER SPECIFICATIONS:
WHOLE HOUSE


AFC-10 Carbon 5 GPM FLOW RATE--5GPM BACKWASH RATE--3/4"PIPING--
1.O CU FT CARBON FILTER W=11" D=11" HT=48" FLOOR SPACE 11x11
SHIPPING WEIGHT
APPROX LBS=125
AFC-15 Carbon 8 GPM FLOW RATE--10GPM BACKWASH RATE--3/4"PIPING--
1.5 CU FT CARBON FILTER W=11" D=11" HT=62" FLOOR SPACE 11x11
SHIPPING WEIGHT
APPROX LBS=145
AFN-10 Acid Neutralizer 8 GPM FLOW RATE--5GPM BACKWASH RATE--3/4"PIPING--
1.O CU FT CALCITE FILTER W=11" D=11" HT=48" FLOOR SPACE 11x11
SHIPPING WEIGHT
APPROX LBS=150
AFN-25 Acid Neutralizer 8 GPM FLOW RATE--5GPM BACKWASH RATE--3/4"PIPING--
1.5 CU FT FILTER W=11" D=11" HT=48" FLOOR SPACE 11x11
SHIPPING WEIGHT
APPROX LBS=195
AFE-10P Greensand 6 GPM FLOW RATE--5GPM BACKWASH RATE--3/4"PIPING--
1.O CU FT GREENSAND FILTER W=11" D=11" HT=48" FLOOR SPACE 11x21
SHIPPING WEIGHT
APPROX LBS=150
AFE-30P- Greensand 8 GPM FLOW RATE--10 GPM BACKWASH RATE--3/4"PIPING--
1.5 CU FT MANGANESE GREENSAND FILTER W=11" D=11" HT=52"
FLOOR SPACE 11x21
SHIPPING WEIGHT
APPROX LBS=195
THE NO CHEMICAL MAINTENANCE FREE
SULPHUR AND IRON TERMINATOR:
AIFN-47--8 GPM FLOW RATE--3GPM BACKWASH RATE--3/4"PIPING--
1.O CU FT MIXED BED BIRM, FILTER AG W=11" D=11" HT=48"
FLOOR SPACE 11x11 SHIPPING WEIGHT
APPROX LBS=130
AIFN-97--10 GPM FLOW RATE--5GPM BACKWASH RATE--3/4"PIPING--
1.O CU FT MIXED BED BIRM, PYROLOX FILTER AG W=11" D=11" HT=48"
FLOOR SPACE 11x11 SHIPPING WEIGHT
APPROX LBS=150

---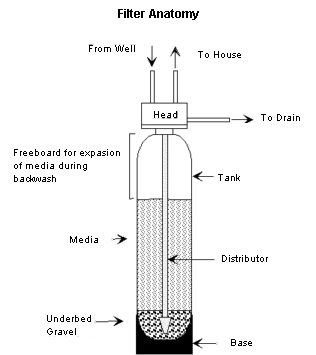 ---
AFE UNITS-OXIDIZING GREENSAND MINERAL NEEDS POTASSIUM PERMANGANATE FOR REGENERATION. FOR IRON, SULPHUR ODOR & MANGANESE (WHOLE HOUSE)
FERRIC IRON - Model AFE-10P Iron System. If the water contains Hardness & considerable ferric iron as evidenced by a reddish brown color, use a Model AFE-10P Iron System as well as a sediment filter ahead of the Water Softener. The sediment filter will remove a portion of the insoluble ferric iron and the iron system with the water softener will remove the soluble ferrous iron.
Oxidizing iron filters (greensand filter) (Model AFE-10P) Oxidizing filters can remove up to 10 ppm of both ferric (oxidized) and ferrous (clear) iron. They work well with all types of private water system pressure tanks. Sulphur removal is also possible with these filters when levels are 2.0 ppm or less. In cases where both iron and sulphur are present it is suggested that a sediment filter/water softener combination be installed for removal of all iron. The sulphur can then be removed by an oxidizing filter installed after the softener. Oxidizing filters require back washing and regeneration with a chemical, potassium permanganate. Automatic and manual types are available. Do not use oxidizing filters on water supplies that have a PH of 6.8 or less, sulphur in excess of 2.0 ppm or iron amounts exceeding 10 ppm. Call 973-293-7856 for more information.
---
AFC UNITS-CARBON FILTER USING ACTIVATED CARBON. FILTERS CHLORINE (WHOLE HOUSE) ODORS, SULPHUR ODORS AND CAN BE USED x2 FOR FUEL OIL CONTAMINATION.
---
AIFN UNITS-OXIDIZING AIR INJECTED IRON, MANGANESE & HEAVY SULPHUR ODOR SYSTEM.
(WHOLE HOUSE)
A micronizer and air vent is a good supplement to assist in the oxidation process. A micronizer is installed ahead of the water storage tank (usually a pressure type tank) and its purpose is to inject air into the stream of water passing by. Once air is in the water it works to solidify (oxidize) (Model AIFN-47-97 comes with micronizer and air vent tank) the iron in the water.
---
AFN-UNITS- ACID WATER NEUTRALIZER. HANDLES CORROSION (WHOLE HOUSE) ELIMINATES BLUE/GREEN STAINING. PROTECTS COPPER PIPES FROM CORROSION AND OLDER PIPES FROM LEACHING LEAD!
What is pH and what's the
difference between acid and base?
Water (H2O) contains both hydrogen (H+) ions and hydroxyl ions (OH-). The term
pH is used to describe the measurement of the H+ ion concentration of liquids and substances. Simply put, pH relates to the relative acidity of a liquid solution. Each measurement is given a pH value on a scale of 0 to 14, with 7 being considered "neutral."If a sample has more H+ ions than OH- ions, it is considered acidic, or having a pH of less than 7. Examples of acidic liquids around the house are vinegar, lemon juice and soft drinks such as cola. If a sample has more OH- ions than H+ ions it is considered basic or alkaline, and has a pH greater than 7. Liquids and substances that are basic (alkaline) are baking soda, antacids and drain cleaners. For every one unit of change on the pH scale—4 to 3, 7 to 8—there is a tenfold change in how acidic or basic the sample is. For example, the average pH of rain fall over much of the northeastern United States is 4.3, or roughly 10 times more acidic than rainfall elsewhere in the United States, which is 5.0-5.6. Lakes with a pH of 4 (acidic) are roughly 100 times more acidic than lakes with a pH of 6. Measuring the pH of water is routine when assessing the "health" of a body of water. The pH of water is usually always changing, and a change in the chemical nature of the system will often reflect a change in the pH. The pH value of water is important to most organisms, and a change in the pH can result in the water becoming unsuitable. Most organisms are used to a specific pH range, and can die from the effects of a change in the pH. At pH values as low as 4.5 and as high as 9.6 the water becomes harmful to organisms.

---