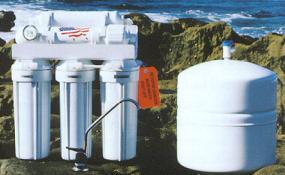 36 gallon per day TFC Membrane RO

The Alpha Water Systems ROS-36 reverse osmosis water purification system is one of the finest units in its class. It uses no chemicals or electricity and provides premium water quality.

Reverse osmosis purification improves both the taste and quality of your water. It reduces up to 99% of the chlorine, as well as objectionable odors and sediment. Reverse osmosis water filtration also reduces the following water contaminants that may be present in your water:

****lead, copper, barium, chromium, mercury, sodium, cadmium, fluoride, nitrite, nitrate, aluminum, arsenic, sulfate, phosphate, iron, magnesium, zinc, chloride, silicate, cyanide, sulphide, bacteria, potassium, fluoride, nickel, silver, manganese, ammonium, barium, chromium, and selenium.****

This system hides away under your sink and puts healthy great-tasting water at your fingertips. It meets all your water quality needs at a fraction of the cost of bottled water; it costs about 7 cents a gallon to operate. Compare that to the price of bottled water, without having to carry home those heavy bottles of water.

The undercounter water purifying unit is easy to install (usually takes little more than an hour). The system comes complete with a space-saving storage tank and all the necessary fittings, including a long-reach chrome spout.


The system is approximately 1'6" X 4" on the filter system and the tank is 11" diameter 15" high


The 5-stage water purification system is California certified and has been tested by Spectrum Labs in accordance with test protocol contained in NSF Standard 58

For cold water use only. Maximum water temperature is 100°F. Maximum water pressure is 125 psi; minimum water pressure is 20 psi. Maximum Water Flow is 1 gallon per minute.




Four of the filters should be replaced every 1-2 years and come conveniently packaged in one kit.

Information about the 5 stage process for those who like ALL of the details:
Stage 1 Sediment Pre-Filter: A pre-filter sediment cartridge is utilized, which because of the fine micron rating, is effective in removing dirt and sand particles.
Stage 2 Initial Carbon Pre-Filter: The high quality carbon pre-filter provides enhanced reduction of taste, odor, and color.
Stage 3 Secondary Carbon Pre-Filter: This secondary carbon pre-filter provides effective filtration and does not release carbon dust. It provides for improved membrane performance.
Stage 4 High Capacity Reverse Osmosis Membrane: A thin film composite (TFC) high quality membrane that processes up to 36 gallons per day.
Stage 5 Final Carbon Post-Filter: This filter provides final polishing of processed water leaving the storage tank.
---
Specifications:
Up to 36 gallons per day
Tank Capacity: 3.2 gallon draw down
Recovery: 20-25%
Rejections: 96% minimum
Pre-Filter: sediment 5 micron - 10" spun poly
Second Pre-Filter: 10" granular activated carbon (CS)
Third Pre-Filter: carbon CTO block
Post-Filter: 10" granular activated carbon in-line
Membrane: Spiral Wound, 36 gpd TFC
Feed Water Pressure: 40 PSI min/100 PSI max
Feed Water Temperature: 4ºC-30ºC/40ºF-96ºF
Feed Water pH: 3 min to 10 max
Total Dissolved Solids: 2000 ppm max
---
Certain areas of the country have a high dissolved solids
content in their water. When the concentration of
these dissolved solids get above 250 mg/l (ppm), the
water can take on a bitter to foul taste. Since ordinary
filters do not remove minerals from the water, a
Reverse Osmosis system is recommended. Reverse
Osmosis is a process of forcing tap water through a
semi-permeable membrane, leaving dissolved solids,
chemicals, low levels of bacteria and many other impurities behind.
These impurities are rinsed away, resulting in clean, clear,
great tasting water. This same process is used by many of the
bottled water companies. Anything made with R/O water tastes better: coffee,
juices, soups, pasta. Ice cubes are clearer and harder and free of "funny taste"
---
Alpha Water Systems Inc Reverse Osmosis Water Purification System
Model ROS-36 $499.00 (36 GPD PREMIUM UNIT)
Call 973-293-7856
5 YEAR WARRANTY
ROS-36 ORDER FORM

_____________________________________________________________________________________________________
Other Models

Reo Pure
Model EC3/25 $379.00
Reverse Osmosis 50 GPD Membrane
1 YEAR WARRANTY

---
26 GPD Premium Reverse Osmosis

TOTAL DISSOLVED SOLIDS (TDS 1) MICROPROCESSOR METER
ROS-5 & ROS-36 & PORTABLE REVERSE OSMOSIS &
LARGER REVERSE OSMOSIS UNITS
---
PORTABLE REVERSE OSMOSIS
---








---
Alpha Water Systems Inc
1995-2019
USA 1-973-293-7856
Worldwide Fax 1-973-293-8056
Technical Support 7 days

Telephone Hours 8:00AM-4:30PM Eastern Monday-Friday

View Our Guestbook
Sign Our Guestbook
---
Send us a message at alphasys@warwick.net
Ordering Info | Product List | Company Policy | Water Edu
Warranty | Home Page
Portable Reverse Osmosis