Standard Features:
Easy connect faucet adapter fits most household faucet.
Adjustable flow restrictor is built-in to the coupler.
See through water level gauge.
All quick connect fittings for easy filter change.
2 Year Limited Manufacturer Warranty

Additional features for CT-445 and CT-445P, and CT-550UP.
Tank Level Control (TLC) for automatic shut off the system can be intergated with or without pump.
sufficient space reserved for installation of booster pump.
CT-445 has TLC only; CT-445P has TLC and Pump integrated.

PORTABLE REVERSE OSMOSIS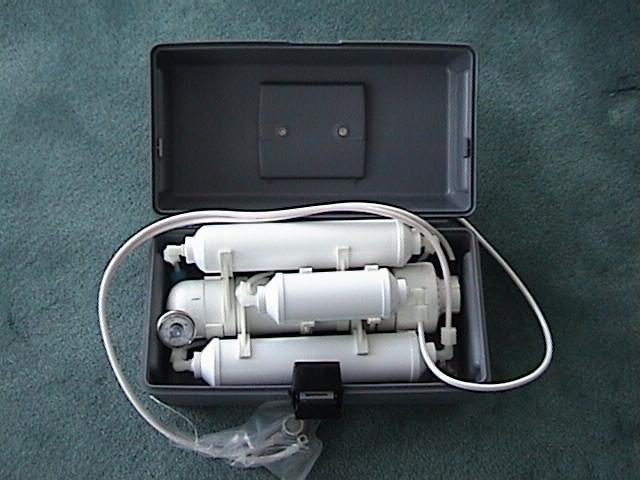 View Our Guestbook
Sign Our Guestbook
Alpha Water Systems Countertop
Reverse Osmosis
| | | | |
| --- | --- | --- | --- |
| Model | CT-550UP | CT-445P | CT-445 |
| Pressure: (min.-max.) | 10-120 PSI | 10-120 PSI | 40-120 PSI |
| pH: | 3-11 | 3-11 | 3-11 |
| Temperature: | 40-110 F | 40-11- F | 40-110 F |
| Product Water: (24hr.) | 60 Gallon | 35 Gallon | 25 Gallon |
| Recovery Rate: | 20-30% | 20-30% | 20-25% |
| Rejection Rate: | 97+2% | 97+2% | 96+2% |
| System Dim. (WxDxH) | 11.5x14.5x14 | 11.5x11x14 | 11.5x11x14 |
| Storage Capacity: | 2.5 Gallon | 1.25 Gallon | 1.25 Gallon |
| Shipping Weight: | 20 lbs. | 18 lbs. | 14 lbs. |
| PRICE | $790.00 | $645.00 | $550.00 |
PLUS $69.95 SHIPPING
In Continental USA
CALL 973-293-7856