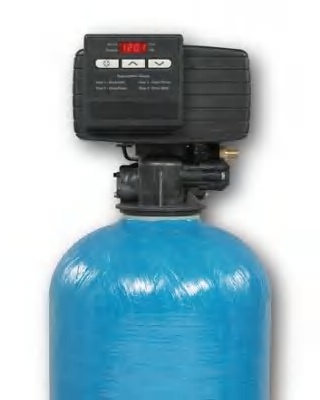 The "Sulphur Breaker" Well Water Filter

Whole House Chemical-Free

Hydrogen Sulfide Removal System
Unlike many sulphur odor removal systems that require the use of chemicals, the whole house Sulphur Breaker is chemical and maintenance free!
Air Induced unit with no chemicals.
Hydrogen sulfide are oxidized on the Sulphur Breaker filtration media.
Simple backwashing, initiated by the automatic control valve that cleans the bed.
The unit includes 1 tank.
Instructions include a 7 day (914-489-3068) installation support line.
Eliminates " Rotten Egg Smell" (i.e. Hydrogen Sulfide).
Clearer, cleaner smelling water at every tap!
Higher Quality Odor Free Drinking Water!
Simple to Install - Connects to the Main Supply Line of your House and a drain.
The Sulphur Breaker can be plumbed indoors or outdoors!
The Sulphur Breaker has a great Warranty ! 10 YEAR WARRANTY
Prices And Technical Information Listed Below

---

Iron & Odor Terminator

Whole House Water Treatment

Fleck Automatic timer valve

This is a self-backwashing system that automatically removes the trapped contaminants within the filter bed and washes them down the drain. This is accomplished with the electronic control valve that is mounted on top of the main Breaker tank. This valve is controlled by a timer, that on a regular interval, initiates the backwash cycle that cleans the bed of filtration media and resets it for the next period of filtration.

The system connects to the main line of your home and filters all the incoming water to it. It requires a nearby power outlet for the control valve.
Welcome To Our Online Water Treatment Store
---
Whole House Water Treatment

The Sulphur Odor Terminator System Pricing Guide



Model AISF-97

Price: $2400.00

| | |
| --- | --- |
| Model # | AISF-97 |
| System Function | Hydrogen Sulfide Removal |
| Dimensions | 10" dia. X 54" ht. |
| Max. Flow Rate (gpm) | 10 |
| Maximum Removal Capacities | 15 ppm Hydrogen Sulfide, |
| Max Pressure | 100psi |
| Micron Filtration | 40 |
| pH Level | 5.5 or Greater |
| System Weight | 150lbs |
| Plumbing Size | 1" |

Includes complete installation instructions.

Order Online or Call
973-293-7856
Heavy Sulphur Odor Filter :

Price: $2400.00


SHIPPING $195.30


MANUAL IN PDF
View Our Guestbook
Sign Our Guestbook



Free technical support for as long as you own your system.

Simply email or call with technical support questions
---
We have found that most homeowners are unaware of the wide variety of water treatment products available to them, and as a result, they end up paying outrageous prices for treatment systems that don't really suit their needs.
Our Website is designed to inform and answer any questions that you may have on our wide selection of water treatment systems. Each product page includes complete technical and pricing information.
---
Alpha Water Systems Inc Provides The Following:
Shipping worldwide directly to your home or business.
No waiting! Most water treatment systems shipped out in 24 hours.
We specialize in residential and commercial well and city water filters and whole house water treatment systems for the home, business and farms.
Order online using our order form and receive a call back from our online order department during normal business hours.
Water treatment specialists available 7 days for product installation support.
Visa, MasterCard, accepted.
Complete easy to follow installation instruction manual included with each water treatment system. Instructions include a 7 day (914-489-3068) installation support.
Units are completely built ready to install.
Technical support before & after the sale.
Free water testing for as long as you own your system.
Friendly courteous service.
Large selection of Alpha Water Treatment Systems designed to provide quality water for you and your family.
2 easy ways to order your new water treatment system(s): Order online using our order form and we will call you back or Call 973-293-7856. Both ways assures you of the right equipment with lifetime tech support.
Great Warranty on each water treatment system.
We hope that you have a pleasurable experience browsing our selections, we think you will be pleased with our informational approach to doing business.
Alpha Water Systems Inc.

Technical Support Number Available 7 days for all of our U.S. & Worldwide Customers
914-489-3068
Free Shipping on select products
Full Worldwide Export Capabilities
Call 973-293-7856
Fax 973-293-8056
Montague, NJ 07827

973-293-7856